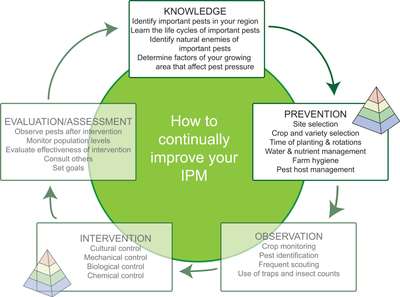 In this issue:
---
Pest Prevention The Foundation of Integrated Pest Management
Stacy Swartz
Excerpt:
When the topic of agricultural pest management is mentioned, most people think first about monitoring for pests or intervening to reduce pests: scouting, pest identification, and/or application of pesticides are some specific practices. However, prevention is an often-overlooked key strategy that farmers can use to minimize the likelihood of pest problems. This article will explore the role of prevention in a pest management plan.
Smallholder farmers in the tropics face increasingly overwhelming hurdles. Population growth, a volatile global climate, and the need for long-term productivity make sustainable food production challenging. Integrated pest management is a platform to equip farmers with diverse decision-making skills. When farmers focus on knowledge and preventative measures, they begin to feel in control of their production, and their mindset about pest management changes from reactionary to preparatory.