The ECHO Asia Seed Bank
ORDER ADVISORY:
Due to seed law restrictions, there are some limitations to sending seeds from the ECHO Asia Seed Bank to addresses outside Thailand. Please check directly with our seed bank to determine whether seeds can be sent to your location before placing an order.
Seeds from the ECHO Asia Seed Bank can only be shipped to addresses in Asia. For members working outside of Asia please order through the ECHO Global Seed Bank.
The ECHO Asia Seed Bank works to serve as a resource for development workers within Asia who wish to experiment with underutilized crops as they work to improve the lives of the poor. The seed bank maintains a collection of hard-to-find seeds that thrive under difficult growing conditions in the tropics and sub-tropics.
Through the ECHO Asia Seed Bank, network members can acquire small sample packets or purchase bulk orders of selected seeds.[1]
---
Ordering ECHO Asia Seed
Free Sample Seed:
10 small sample packets of seeds per year are made available at no charge to those working on behalf of the poor in Asia. Trial seeds help farmers evaluate new species that may help alleviate hunger, improve the soil, and produce income in areas where agriculture is difficult.
You currently need to enter a promo code during checkout to get your free seeds. To get this code simply fill out this form and we will email it to you.
---
Instructions for ordering seeds:
Before You Order
Consult the ECHO Asia Seed Bank Catalog for full information regarding available plant species.
If you're making an annual free seed order be sure to fill out this form to request the promotional code.
Ensure that you have taken any steps necessary to be able to import seeds into your country[3]
Order Your Seeds
Search the online store,

ECHO Asia Seeds

, for current availability of a particular item.
Make your order. REMEMBER: The maximum number of free seed packets you may order is ten (10), and this must include no more than one (1) of each plant species/variety.
You can order and pay for additional seeds, including bulk seeds.[1] If your order has an outstanding balance we will contact you for payment.
After You Order
After submitting your order for seeds, the ECHO Asia team will reach out to you to confirm you order to make any adjustments. Please note that this may take a few days.[3]
Your order will be filled and mailed.[4]
Consult the

ECHO Asia Seed Fact Sheets

or ECHO's Plant Information Pages for more information about planting your seed.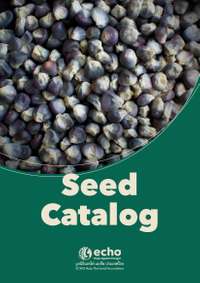 For more information regarding the seeds currently offered, download the ECHO Asia Seed Catalog.
---
[1] Additional Seed or Bulk Seed: Once Network Members have met their 10 small sample packet quota for the year, it is still possible to purchase additional sample packets. ECHO Asia also makes bulk amounts available for several species that may require an amount larger than a sample packet or that may not be available in certain areas.
[2]Please note that your order will be filled on the basis of first come, first served. Seed availability depends on current production. Fees help defray the cost of seed production, processing, packaging, and postage.
[3] ECHO Asia Seed Bank is not responsible for phytosanitary certificates or plant import permits in most cases. Customers receiving seed outside of Thailand must be familiar with their country's policies regarding the importation of foreign plant and seed material.
[4] For orders within Thailand, seeds are mailed through Regular Parcel Service Only (approx. 1-7 business days, not including weekends and holidays). For orders within other parts of Asia, seeds are mailed via Airmail Only (approx. 7-14 business days, not including weekends and holidays).
Still have more questions? Check out our FAQ page!