TN #95 100-Fold Vegetable Gardens with Low-Cost Wicking Beds 2019-09-18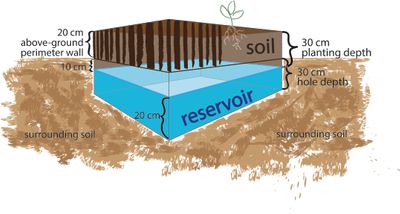 EXCERPT: I discovered 100-fold gardens while researching ways to irrigate plants directly in the root zone. I wanted to know how to practically and affordably control some of the variables that influence plant growth, such as water availability and soil fertility. I read about "wicking beds," which are watered from below as water moves up towards plants' rooting zone from a reservoir lined with plastic. Watering from below prevents water loss while maintaining constant soil moisture and supplying water and nutrients in accordance with plant needs.
The wicking beds that I read about were primarily built above ground and used expensive containers and other materials. Proponents recommended potting soil to fill the beds. I began experimenting with local materials to reduce the cost of the beds. I did not want to have to purchase expensive containers or soil, so I decided to dig the beds 30 cm into the ground. That way, the ground would serve as the container, and we could sieve the soil from the hole and use it as the growing medium; it ends up being a fine growing medium that remains friable and that wicks water and nutrients well. We used the rocks and other large objects that were left in the sieve as part of the filler for the bottom of the beds. We were also able to dispose of old tin cans, bottles, broken glass, bones, etc. in the bottom part of the beds.