Upcoming events
September 2022
---
September 12, 2022 07:00

-

September 16, 2022 19:00
ECHO Global Farm

,

USA
Presented By: ECHO
Show Details
This course covers a broad range of topics relevant to those starting out in agricultural development in a tropical environment. The purpose of this class is to expose you to several different ideas and concepts. Although a significant amount of time will be spent looking at examples on the ECHO Farm, given the breadth of topics covered, extensive hands-on farm work should not be an expectation of taking this course.
Those interested in preparing for short to long-term involvement in international agriculture development are encouraged to participate in this five-day course. Topics and discussions will be centered on improved food security and agricultural livelihoods for small-scale farmers in developing countries. Participants will be introduced to the complexities related to poverty and community development. They will also be introduced to principles and practices that contribute toward maintaining healthy and productive soil as well as improved water management and crop production (e.g., annuals and perennials). The vital role of livestock and appropriate technology is also incorporated into the course. During the week, activities will include presentations, farm-based practicums, consultations with ECHO staff, and opportunities for research in the ECHO Resource Library.
Who the course is for:
This course will especially benefit those who are considering short- or long-term involvement in international agricultural development work. It can also be of benefit to those who have been on the field doing development work for a few years but who would like to take a step back and re-evaluate their approach. Those who could benefit from this course include short-term or career missionaries, international project volunteers (e.g. Peace Corps), leaders of relief-oriented organizations, or missions committee leaders of churches involved in agricultural projects overseas.
Registration CLOSED
September 12, 2022 08:30

-

September 16, 2022 15:30
ECHO Asia Small Farm Resource Center

,

Thailand
Presented By: ECHO Asia Impact Center
Show Details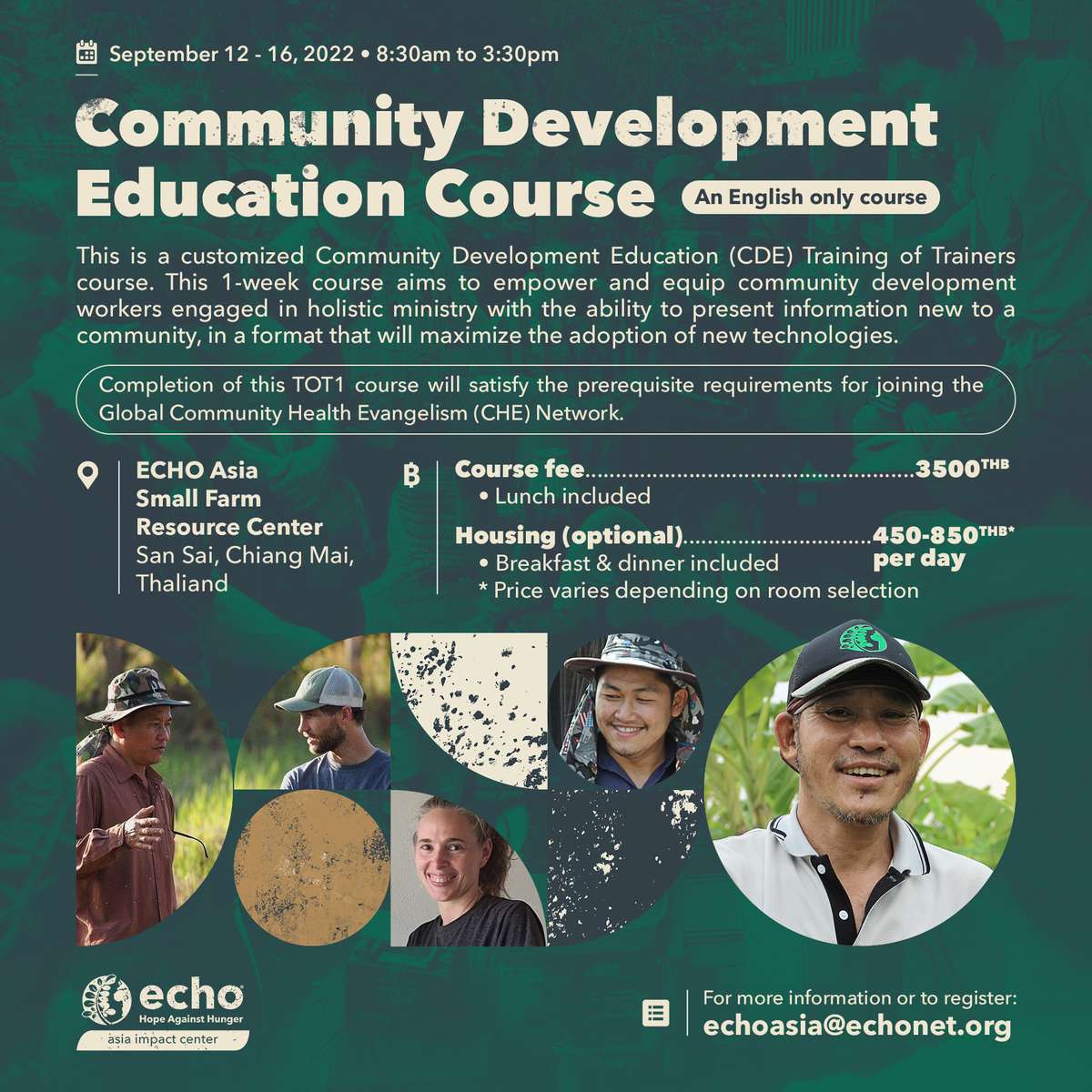 This ECHO Asia CDE training workshop is designed to help community development workers improve the adoption rate of new technologies among smallholder farmers. The principles and practices are taken from standard CHE (Community Health Evangelism) training and applied to this specific focus.
We will discover how core values enhance the process of adoption. We will explore how adults learn through the use of a key facilitated teaching style that peaks interest, engagement as well as retention and implementation.
Important considerations such as stakeholders, gatekeepers, champions, basic sociological & cultural factors, and the timeline sequence of when to introduce new technologies will be explored.
Other insights will be discovered, such as defining the roles of the outsiders introducing the new technologies, selecting agriculture communities/ individual farmers who have more capacity for new technologies, and suggesting practices that minimize risk and ensure long-term sustainability.
September 27, 2022 08:00

-

September 29, 2022 17:00
Pacific Hôtel

,

Burkina Faso
Presented By: ECHO West Africa
Show Details
This meeting will emphasize the methods of soil organic fertilization, the use of pesticides and organic fertilizers, as well as organic conservation methods.
It is a framework for meeting and sharing between agriculture practitioners, technicians, small farmers, NGOs, etc.
November 2022
---
November 15, 2022 07:00

-

November 17, 2022 20:00
ECHO Global Farm and Holiday Inn

,

USA
Presented By: ECHO
Show Details

For Full Details Visit The Conference Website
For twenty-eight years, ECHO has brought together networks of like-minded individuals devoted to eradicating hunger and improving lives through agriculture and community development. For the past two years, due to novel coronavirus, ECHO's Annual Conference moved online. This year we are returning to our in-person event. We are thrilled to invite you to join us in Fort Myers, Florida on November 15th-17th to connect once again together on ECHO's Florida Campus. The ECHO International Agriculture Conference will return with speakers addressing agricultural challenges, personal experiences, and strategies for improving the lives of millions who daily face food insecurity.
What to expect from this year's conference:
World-class keynote speakers
Interactive afternoon workshops on ECHO's Global Farm
Evening Breakout Sessions sharing innovative techniques and approaches
Who Should Attend?
This conference will especially benefit current or aspiring international agricultural development workers. At this conference, you will get to network with professionals who share your context and your passions!
Short-term or career missionaries
National community leaders and farmers
Leaders of development/relief-oriented organizations
University undergraduate, graduate students and professors
International project volunteers (e.g. Peace Corps)
Register Here
February 2023
---
February 21, 2023 09:00

-

February 22, 2023 18:00
Arusha

,

Tanzania
Presented By: ECHO East Africa
Show Details
The ECHO Symposium will provide a network and training opportunity for those involved in alleviating hunger and poverty in East Africa. Three mornings of plenary sessions featuring knowledgeable and experienced speakers will be followed by afternoon workshops and discussion groups led by regional agricultural development workers and experts. Topics are currently being discussed for the event.
This event will enable three days of sharing by presentations, some practical sessions, an appropriate technology fair, and last day field trips. The Symposium objectives: to share themes/best practices. This event has been stimulated by witnessing a typical myriad of NGOs working in isolation alongside others doing very good work.