Upcoming events
March 2023
---
March 27, 2023 08:30

-

April 01, 2023 16:30
Chiang Mai

,

Thailand
Presented By: ECHO Asia Impact Center
Show Details
This 1-week course is designed for development workers, missionaries, and volunteers looking to engage their communities with low-cost, high-impact agricultural ideas and techniques. Participants will be introduced to various agricultural practices and technologies through classroom time and hands-on activities on the farm, learning to 'use what you have to make what you need.'
This course is considered an 'introductory survey course' and will present a broad overview of many options suited to smallholder agricultural contexts in Asia.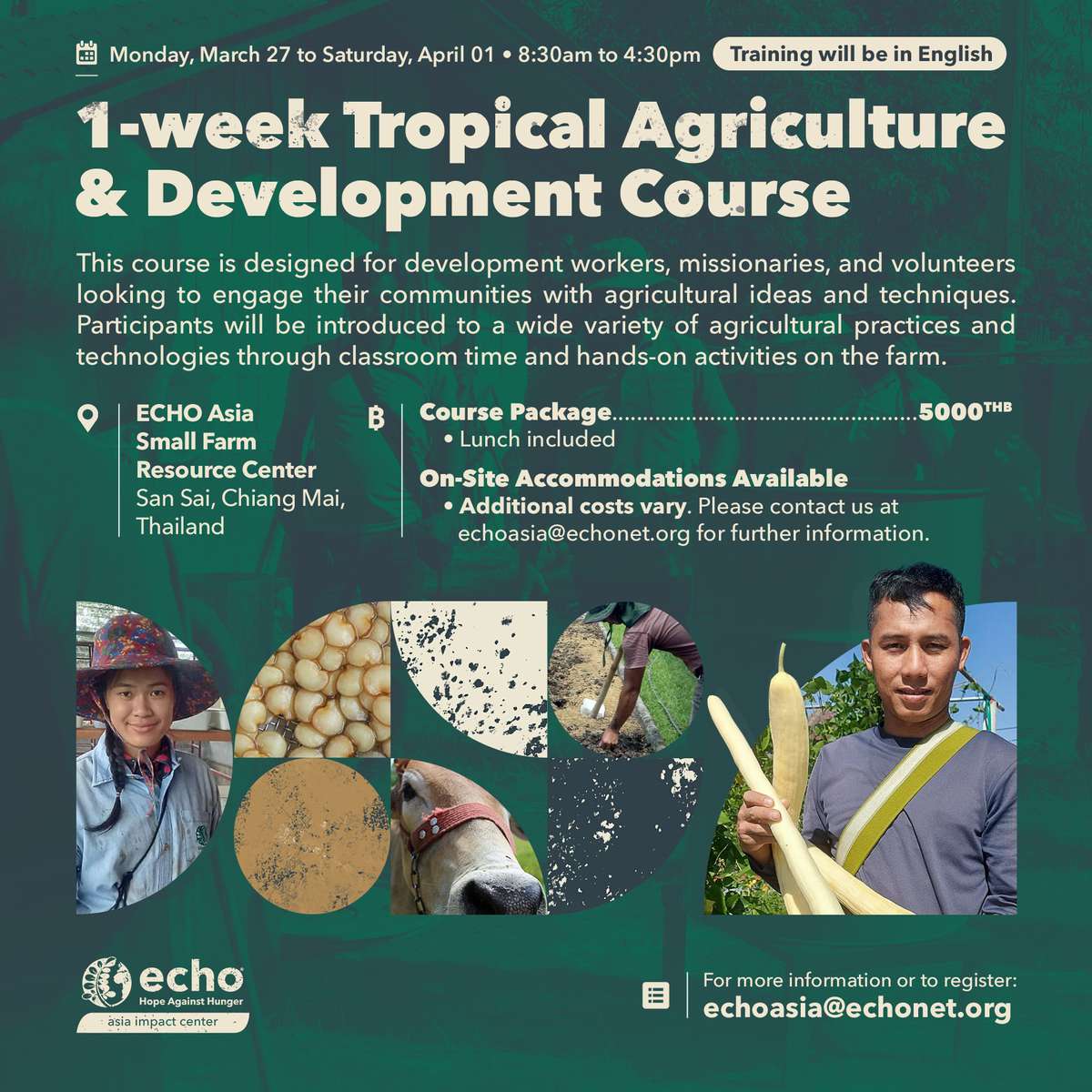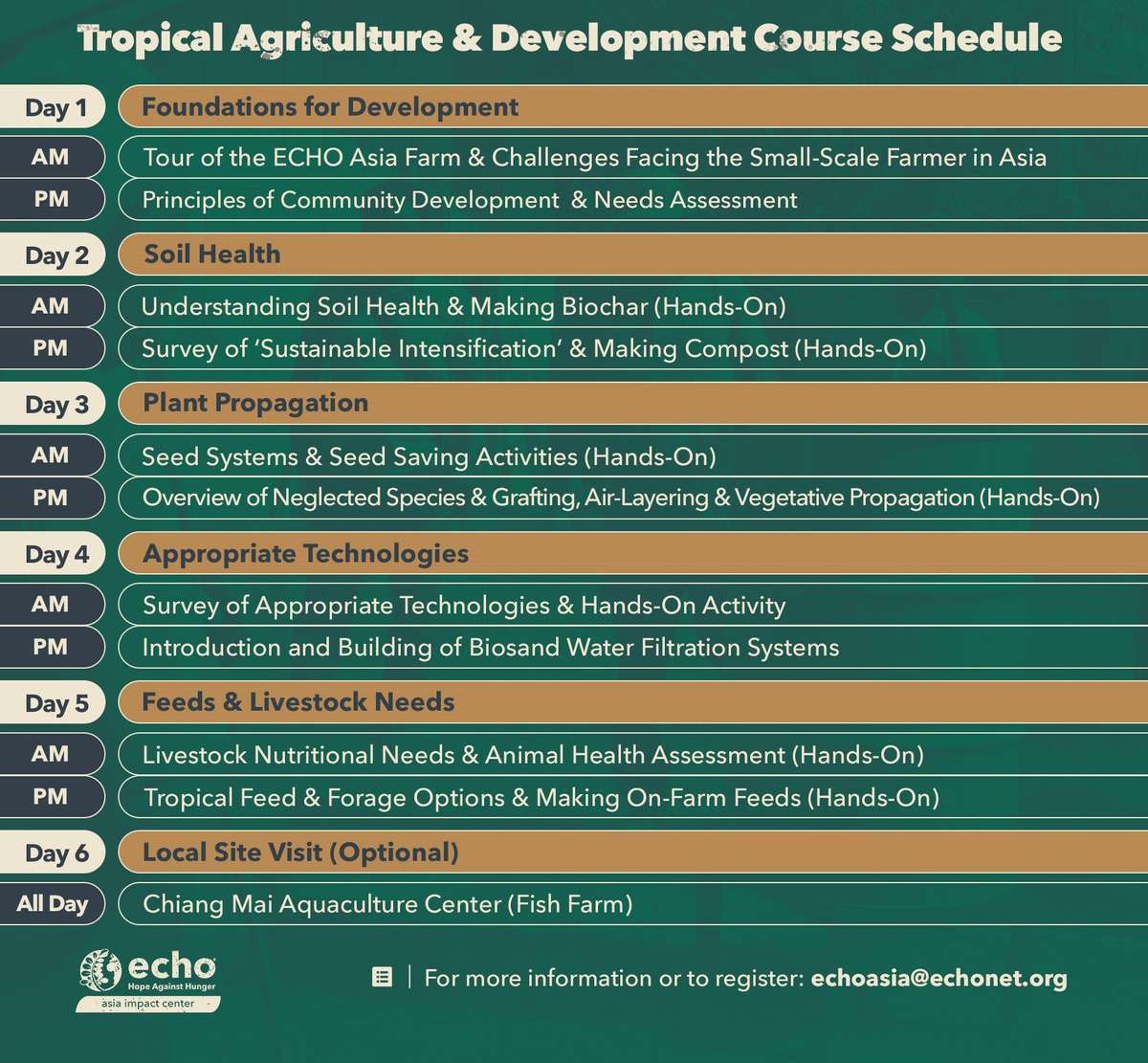 April 2023
---
April 16, 2023 16:00

-

April 22, 2023 14:00
Subiaco Centre in Karen, Nairobi

,

Kenya
Presented By: REAP Kenya
Show Details
REAP is an organization in Kenya with extensive experience in sustainable agriculture and Natural Medicine. REAP will run a week-long intensive training seminar in Natural Medicine following the methods and principles of anamed international. Anamed, short for "action for natural medicine" has over 30 years of experience in the scientific use of medicinal plants to treat many common tropical health complaints and diseases. Those attending past seminars have come not only from Kenya but from many countries in the region and even further afield.
As a result of these seminars, we are delighted to say that Natural Medicine is now being practiced in many parts of Kenya and other countries in the region.
In particular, malaria patients are being treated with Artemisia annua tea, diarrhea is being treated with anti-amoeba tea, skin conditions and wounds are being treated, and HIV/AIDS patients are benefiting enormously from Artemisia tea, Roselle tea, and Moringa leaf powder.
We invite you or someone from your organization to attend this training seminar in Natural Medicine.
The aims of this training seminar are:
To train local healers, pastors, missionaries, health workers, teachers, and others active in the community in
the recognition, knowledge, and cultivation of key medicinal plants.

the treatments of many basic medical complaints and diseases, including malaria, skin problems, diarrhea, HIV/AIDS, and wounds.

the hygienic production of effective Natural Medicines from researched plants, e.g. teas, different medicinal oils and ointments, and tinctures. We will also produce medicinal soap, medicinal charcoal, black stones for scorpion stings and snake bites and learn how to use several simple technologies.

the influence of good nutrition and lifestyle on health.
Following the seminar, we expect action since we have shared information so that the participants can:
create their own garden of medicinal plants,

prepare their own natural medicines,

treat themselves, their families, and others within their area of competence, and

teach their families, colleagues, and others in their communities.
Tutors: Rev Rosalia Oyweka, Dr Roger Sharland, Pst. George Matengo and Sr. Francesca Kaesa.
June 2023
---
June 26, 2023 08:30

-

July 01, 2023 17:00
Chiang Mai

,

Thailand
Presented By: ECHO Asia Impact Center
Show Details
This 1-week course is designed for development workers, missionaries, and volunteers looking to engage their communities with low-cost, high-impact agricultural practices and techniques. Participants will be introduced to a wide variety of agricultural practices and technologies through classroom time and hands-on activities on the farm, learning to 'use what you have to make what you need'.
This course is considered an 'introductory survey course', and will present a broad overview of many different options suited to smallholder agricultural contexts in Asia.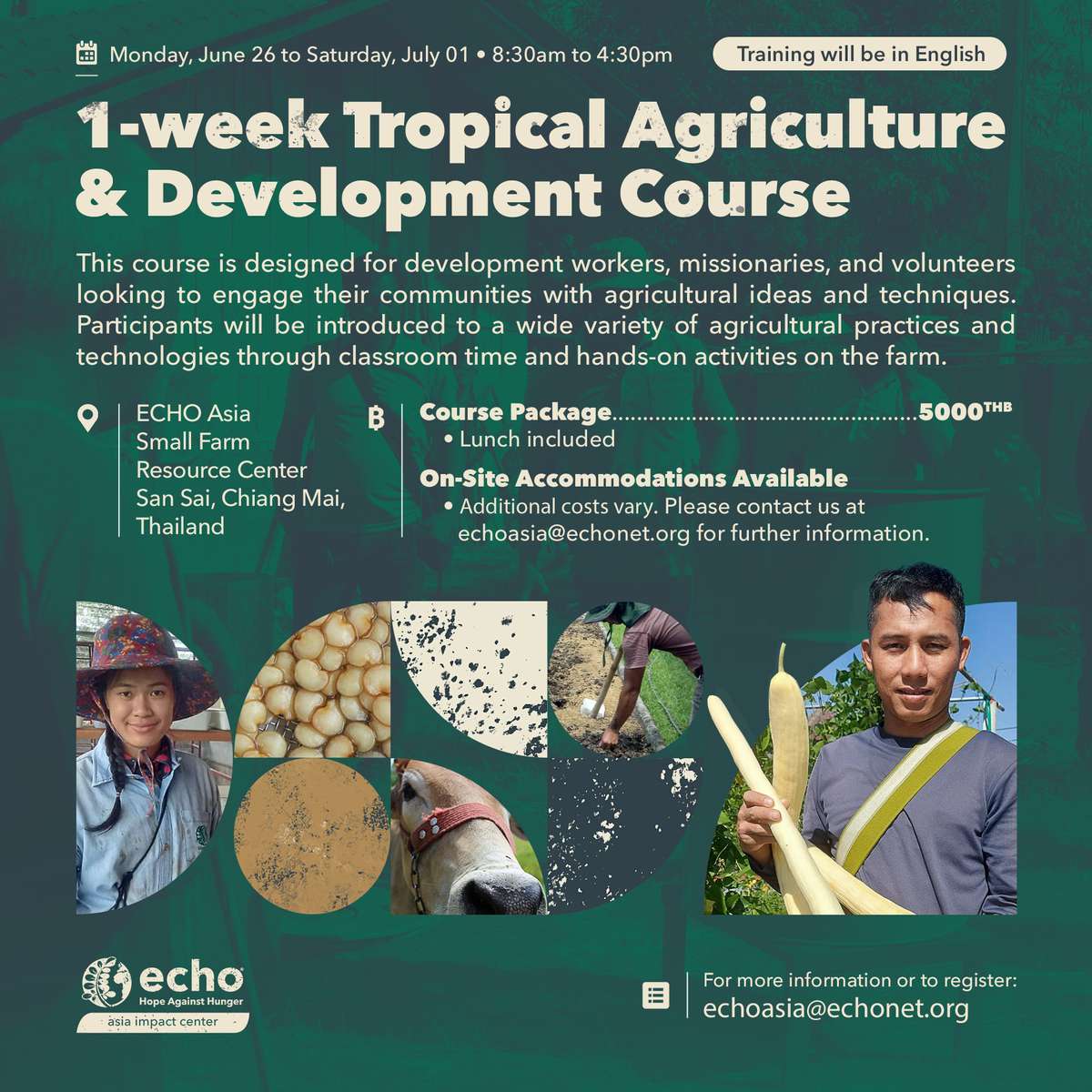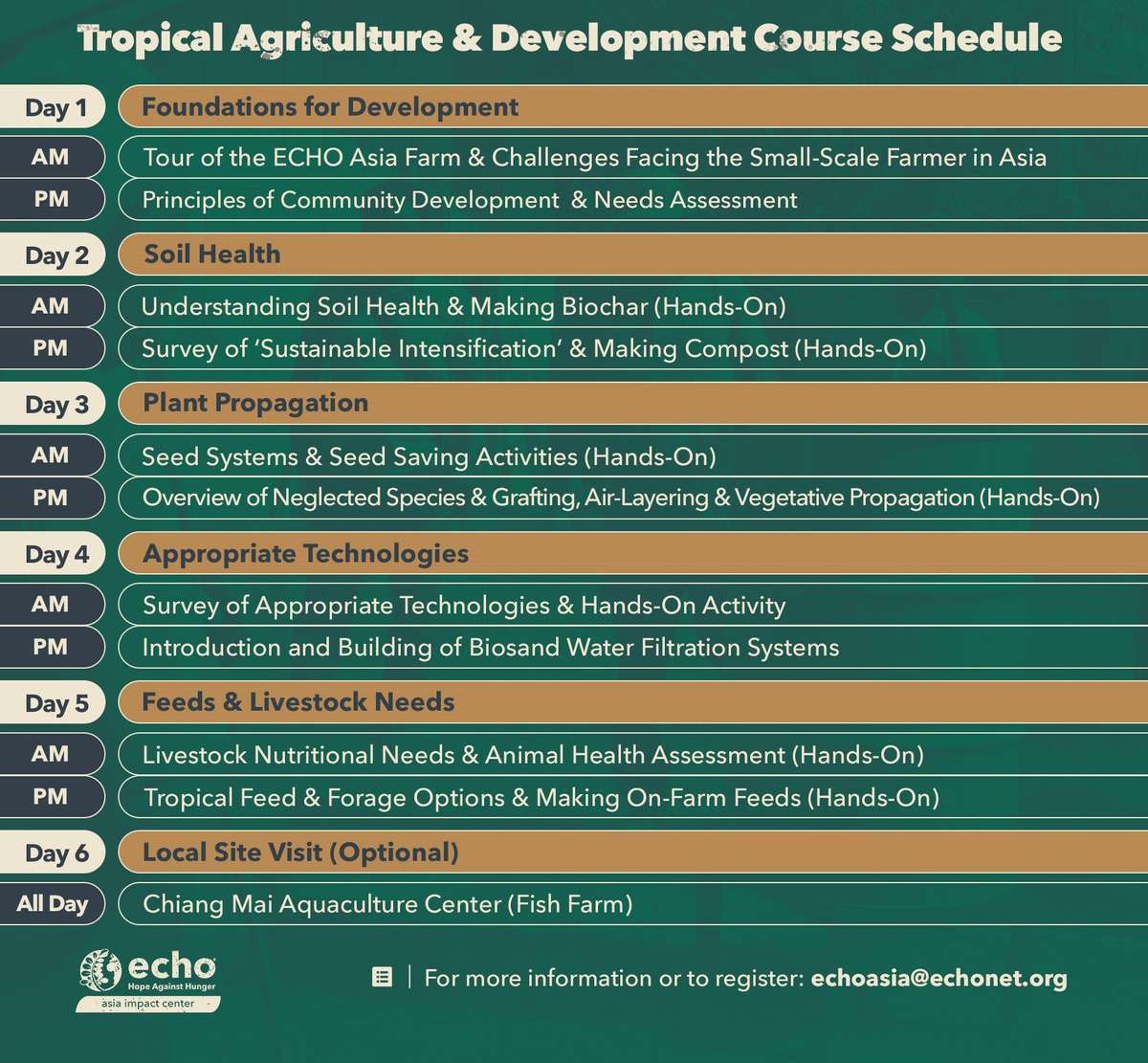 July 2023
---
July 10, 2023 08:00

-

July 14, 2023 17:00
ECHO Global Farm

,

USA
Presented By: ECHO
Show Details
Those interested in preparing for short to long-term involvement in international agriculture development are encouraged to participate in this five-day course. Topics and discussions will focus on improved food security and agricultural livelihoods for small-scale farmers in developing countries. Participants will be introduced to the complexities related to poverty and community development. They will also be introduced to principles and practices that contribute toward maintaining healthy and productive soil as well as improved water management and crop production (e.g., annuals and perennials). The vital role of livestock and appropriate technology is also incorporated into the course. During the week, activities will include presentations, farm-based practicums, consultations with ECHO staff, and opportunities for research in the ECHO Resource Library.
What is offered:
This course covers a broad range of topics relevant to those starting in agricultural development in a tropical environment. The purpose of this class is to expose you to several different ideas and concepts. Although a significant amount of time will be spent looking at examples on the ECHO Farm, given the breadth of topics covered, extensive hands-on farm work should not be an expectation of taking this course.
Language: This course is offered in English
Register Here
October 2023
---
October 16, 2023 15:00

-

October 20, 2023 20:00
Holiday Garden Hotel and Resort and The ECHO Asia Impact Center Farm and Seed Bank

,

Thailand
Presented By: ECHO Asia
Show Details
How can we help small scale farming initiatives thrive in Asia? We can provide low-cost, innovative options that allow people to grow both their crops and their knowledge, expand their operations, and thrive!
Join us October 17-20 for 4-days of networking and opportunities to share ideas, technologies appropriate for small scale farmers, and lots of practical demonstrations at the ECHO Asia Seed Bank & Small Farm Resource Center!
In addition to morning plenary speakers, we will conduct afternoon workshops at the ECHO Small Farm Resource Centrer, an evening poster session, a seed exchange, and a 1-day site visit to an area best practice site!
Register Here