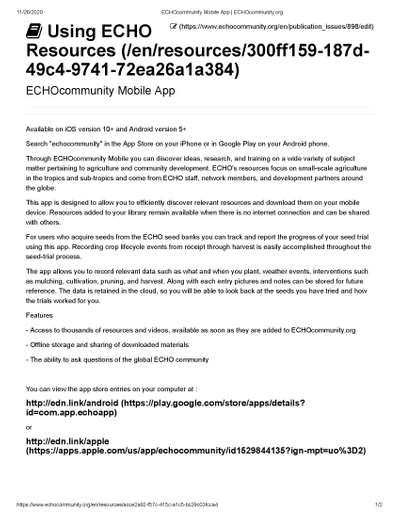 Available on iOS 10.0+ and Android 5.0+
Search "echocommunity" in the App Store on your iPhone or in Google Play on your Android phone.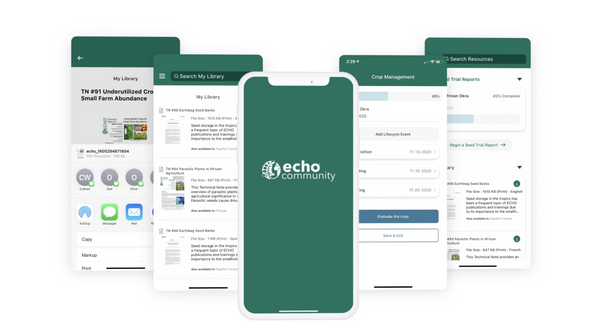 ECHO is excited to introduce our new mobile app! We represent a network of nearly 20,000 members and we have provided resources to farmers and development workers for 40 years. ECHOcommunity.org contains thousands of documents and videos that are relevant for those working to end world hunger; the new mobile app enables these resources to be stored directly on a mobile device so that they can be viewed and shared with others while offline (Figure 6).
The new ECHOcommunity Mobile App also allows farmers to track and evaluate crops. Seeds (whether procured from ECHO seed banks around the world or from other sources) can be tracked from planting to harvest through detailed digital records. Farmers can track weather events, inputs, pests, diseases, and many other factors. The app supports adding notes and pictures. Data, notes and pictures are synchronized to internet-based storage when internet is available, and retained on the device at all times. The app is able to function on very low bandwidths.

The app is available in English, Spanish, French, Swahili, Thai, and Haitian Kreyol through Apple [http://edn.link/apple] and Android [http://edn.link/android] app stores. Translation is currently underway for an additional 6 languages. Search for 'echocommunity' (no spaces) in your app store to download the app to your mobile device now. If you find the app useful, please share it with others!
Features
Access to thousands of resources and videos, available as soon as they are added to ECHOcommunity.org
Offline storage and sharing of downloaded materials
The ability to ask questions of the global ECHO community
You can view the app store entries on your computer at :
or
---
Articles
---
The ECHOcommunity app gives you access to many downloadable resources such as PDFs and videos. You can download these files directly to your device for reference in the field. You can also share these files with people in your community. It is possible to share resources from this app with others even when you don't have Wi-Fi or a cellular data connection!
Use the View Resource button for more information.
Abigail Jackson
Learn how to navigate your app, access resources, and set your preferences.
Use the View Resource button for more information.
Abigail Jackson
Learn how to access, view, and share resources available through ECHOcommunity.org and our network partners.
Use the View Resource button for more information.
Abigail Jackson
Learn to create a plant record and keep track of crop information throughout the growing cycle.