Preservation of Fish and Meat
Brigitte Maas-van, Berkel Brigiet van den Boogaard, Corlien Heijnen
---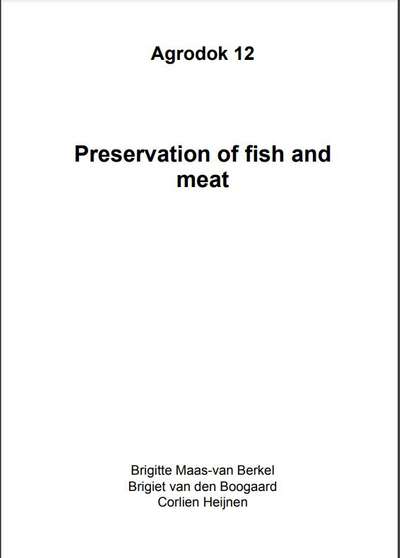 Preservation is the processing of foods so that they can be stored longer. Man is dependent on products of plant and animal origin for food. Because most of these products are readily available only during certain seasons of the year and because fresh food spoils quickly, methods have been developed to preserve foods. Preserved foods can be eaten long after the fresh products would normally have spoiled. With the growth of towns, the need to preserve foods longer increased as some people could no longer grow their own vegetables nor keep animals.
Preservation must be seen as a way of storing excess foods that are abundantly available at certain times of the year, so that they can be consumed in times when food is scarce. Consumption of fresh foods is always preferable, however, as preservation usually decreases the nutritional value. In other words, preserved foods are not as healthy as fresh foods.
A number of simple preservation techniques suitable for small-scale preservation, such as at the household or village level, will be described in this booklet. The emphasis is on 'small-scale', to inform individuals how to process and store their surplus economically.
In times of scarcity, preserved foods can be a welcome addition to the diet. Through preservation, sales of out of season products are possible and prices asked are independent of the usually lower market prices during the harvest season.
This booklet starts with a discussion of spoilage and its prevention. Knowledge of the causes of spoilage is necessary in order to be able to preserve foods correctly. After that, the principles and the methods of preservation are explained and the advantages and disadvantages of each method are described.
Publication Details
Published: 2004
Publisher: Agromisa Foundation