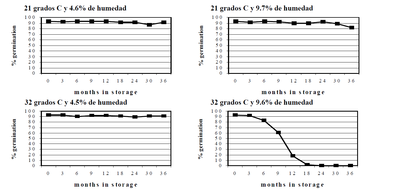 ---
Figura 1: Efectos de la temperatura de almacenaje y del contenido de humedad de la semilla en el porcentaje de germinación de
semillas de tomate almacenadas por hasta tres años. (Datos tomados de la página 32 de "The Preservation of Viability and Vigor in
Vegetable Seed," Asgrow Monograph No. 2, Associated Seed Growers, Inc., New Haven Conn., 1954).