Sustainable Intensification in Smallholder Agriculture: An Integrated Systems Research Approach
Ingrid Öborn, et al.
---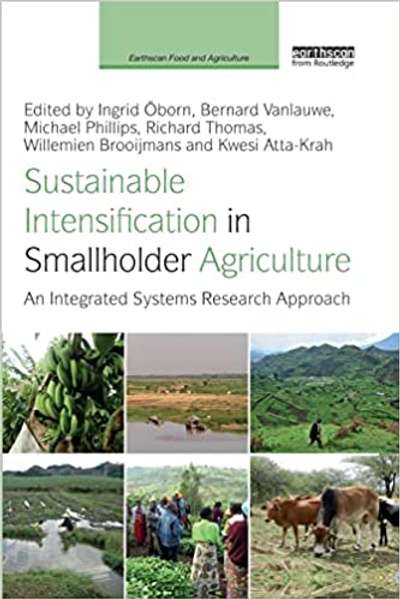 Sustainable intensification has recently been developed and adopted as a key concept and driver for research and policy in sustainable agriculture. It includes ecological, economic and social dimensions, where food and nutrition security, gender and equity are crucial components. This book describes different aspects of systems research in agriculture in its broadest sense, where the focus is moved from farming systems to livelihoods systems and institutional innovation.
Much of the work represents outputs of the three CGIAR Research Programs on Integrated Systems for the Humid Tropics, Aquatic Agricultural Systems and Dryland Systems. The chapters are based around four themes: the conceptual underpinnings of systems research; sustainable intensification in practice; integrating nutrition, gender and equity in research for improved livelihoods; and systems and institutional innovation.
While most of the case studies are from countries and agro-ecological zones in Africa, there are also some from Latin America, Southeast Asia and the Pacific.
Publication Details
Published: 2019
Publisher: Routledge
ISBN-10: 0367227789
ISBN-13: 978-0367227784
Dewey Decimal: 360
ECHO Library: 360 OBO