Main bee diseases : Good beekeeping practices
FAO (Food and Agriculture Organization of the United Nations)
---
This book may no longer be available in print.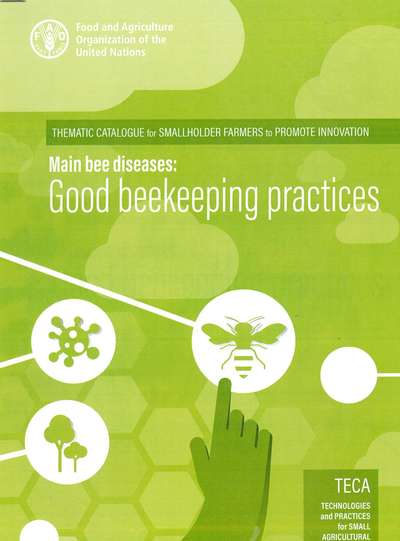 46 pp. : ill.
"Thematic catalogue for small holder farmers to promote innovation"
Gift of Dr Abram Bicksler Jan 24, 2023
(TECA - Technologies and practices for small agricultural producers)
"This manual is a practical tool to help beekeepers, veterinarians and beekeeping advisory services to properly identify main honeybee diseases and take the most appropriate action in the apiary to control and/or prevent disease outbreaks. In recent decades, the beekeeping sector has been facing a growing number of external factors affecting honeybee health and productivity, including global warming, the spread of emerging pathogens, urbanization, and losses in plant biodiversity. These factors are largely beyond the control of beekeepers, who need to adopt proper beekeeping management practices that help limit adverse impacts. Through a set of practical information, simple visuals, and understandable content, the manual creatively illustrates actions which facilitate the identification of disease symptoms, and presents a comprehensive list of good beekeeping practices (e.g. undertaking regular maintenance of hives to maintain them in good condition) to adopt in the apiary as well as biosafety measures to reduce the risk of the introduction and the spread of main honeybee diseases."
Publication Details
Published: 2018
Publisher: Rome : FAO (Food and Agriculture Organization of the United Nations)
ISBN-13: 978-92-5-130544-7
Dewey Decimal: 638.15
ECHO Library: 638.15 FAO