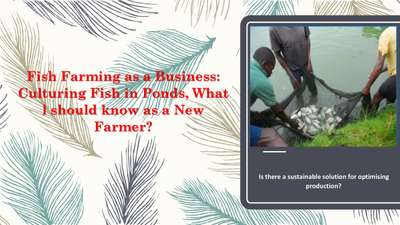 Ponds can be earthen ponds or concrete ponds, but most production takes place in earthen ponds.
Ponds vary in sizes and range from about a quarter acre to several acres.
Fish production may take place in a farm pond or in ponds specifically designed and constructed for aquaculture. Though most farm ponds have fish growing in them, they may not be suitable for commercial aquaculture because, quite often, they have uncertain water quality and uneven water depths and do not have a drainage system. However, many farm ponds have been used to produce fish in cages and in recreational or fee‐fishing operations.
Ponds specifically designed and constructed for fish culture require some amount of clay soils to retain water. Ponds that are less than 2 acres are recommended because they are less difficult to manage than larger ones.