Edible Insects in Africa: An Introduction to Finding, Using and Eating Insects
---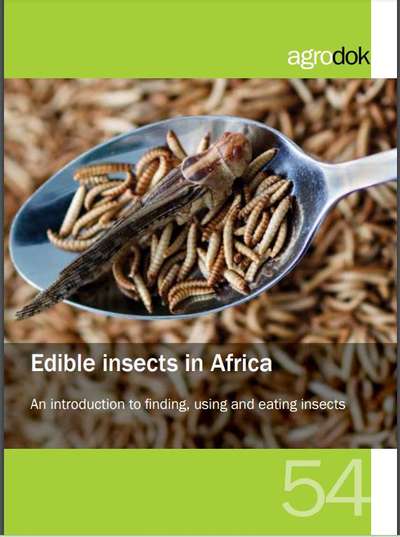 For centuries people have been collecting the nearly 2000 species of insects available for human consumption. This is not because it is a poor man's food – a Western misconception – but because it is delicious.'
Arnold van Huis, Professor of Tropical Entomology, Wageningen University

Population growth and an increasing demand for animal protein depletes finite agricultural resources and brings a high environmental cost. Hence the need to rethink our food habits, particularly those related to meat consumption. In this respect there is much the Western world can learn from tropical countries about an excellent alternative: edible insects.

Eating insects (called 'entomophagy') has been part of the human diet since the beginning of humanity. An accessible, affordable and popular source of food, edible insects are an ingredient in traditional dishes in many parts of Africa. They provide protein of good quality, no less valuable than conventional meat, and are rich in lipids, iron and macronutrients. Edible insects also contribute to food security and can provide extra income if collected, dried and sold at market.

Generously illustrated with many diagrams and colourful photos, this Agrodok clearly demonstrates where to find, collect and cook ten different insect species from five groups: caterpillars, beetles, termites, grasshoppers and crickets. The many practical examples also explain how to rear the insects, while there are helpful sections providing information on safe preparation, tasty recipes and where to find out more.
80 pages, illustrated
Agrodok 54
Publication Details
Published: 2015
Publisher: Agrodok
ISBN-13: 9789290815778
Dewey Decimal: 641.696
ECHO Library: 641.696 AGR