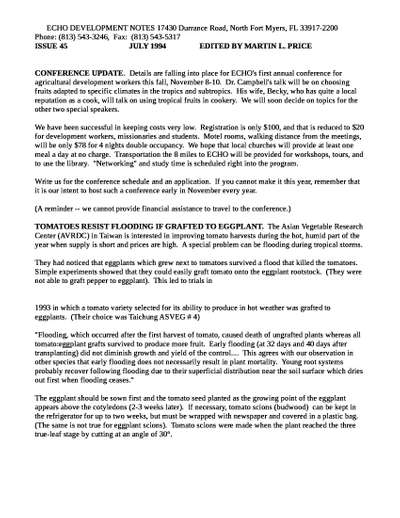 Go Easy With Fertilizer After Transplanting Trees and Shrubs.
Removing Salts From Container Grown Plants
Moringa and Carotene
What About Rhizobia Inoculants?
Tomatoes Resist Flooding if Grafted To Eggplant.
A Method For Keeping Rats Away From Oil Palms
---
Articles
---
Dried Moringa leaves have significant amounts of beta carotene.
Scott Sherman
Information on obtaining inoculants for legume crops.
Tomato plants grafted onto eggplant roots can tolerate flooding.
Dry logs inhabited by fire ants can help deter rats from eating young oil palms.
Nitrogen fertilizer should not be applied to trees and shrubs directly after transplanting.
A technique for removing salts from planting containers.