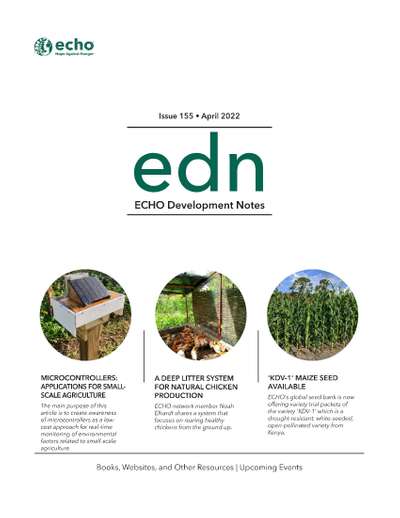 ---
Articles
---
Tim Motis
The main purpose of this article is to create awareness of microcontrollers as a low-cost approach for real-time monitoring of environmental factors related to small-scale agriculture. The first section presents potential uses of data, such as air and soil temperature, which can be monitored using a range of technologies. My hope, however, is to shed light on affordable technology that 1) is useful for conducting agricultural experiments; 2) makes data accessible to farmers; 3) can be used to monitor conditions in agricultural spaces such as seed banks; and that 4) farmers can potentially use (after prototyping and programing).
Noah Elhardt, Beersheba Project, Senegal
This system prioritizes chicken health and robustness by attempting to recreate conditions natural to chickens. This system does not produce as much as industrial systems, but can be more profitable for small-scale farmers by reducing both risks and costs. It focuses on growing vigorous chickens with a balanced gut flora (microbial population) raised in healthy conditions, so that these chickens can ward off diseases themselves.
Rocheteau Dareus
In this article, we present the maize variety 'KDV-1.'
Stacy Swartz
It was recently brought to our attention that the World Health Organization also has resources on medicinal plants in a four-volume set. Volumes are organized by scientific name of the plant and include a great deal of information. While some information may not be what most of ECHO's network is looking for, such as the chemical composition and detailed description of the plant appearance, there are sections under each plant description that may be very useful.
Stacy Swartz
Many farmers face difficulties in navigating the complexities of marketing their crops. A single farmer may not have enough to justify bringing his or her crop to market. During the peak of the season when the market is flooded with produce, it may not be economically feasible for a farmer to bring his goods to market.
Canadian Foodgrains Bank has produced and released Conservation Agriculture and Marketing Videos that explain how to work alongside farmers to facilitate marketing decisions on a community level.