Insects as Animal Feed : novel ingredients for use in pet, aquaculture and livestock diets
Hall, Heidi ; Fitches, Elaine ; Smith, Rhonda
---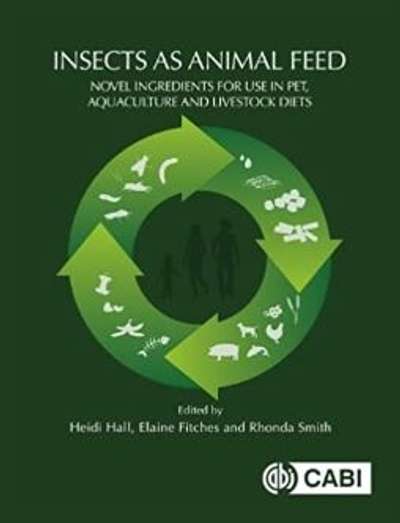 The global drive towards sustainability and improved animal health means there is a greater need for development of novel functional ingredients for the feed industry. As the requirements for animal protein for livestock feed and human consumption grows, the use of insect products as animal feed has been gaining increasing attention.

Covering global production systems of insect protein, oil and chitin, as well as the co-products from this industry, this book:
Considers in-depth nutritional and safety aspects of insects for feed;
Reviews suitability of insects as feed for different animal species and development stages;
Identifies the challenges related to regulation and legislation, consumer perception and acceptance, and commercialization of insects.
Including a focus on sustainable practices such as waste valorization, this book takes a holistic approach as to how insects could contribute to the sustainability of livestock production on a global scale. Providing an up-to-date reference for research scientists, nutritionists and veterinarians, as well as prospective insect farmers, it will also interest those with a broader curiosity towards climate change, sustainability and the circular economy.
160 pp : ill
Publication Details
Published: 2021
Publisher: Oxfordshire : CABI
ISBN-10: 1800620470
ISBN-13: 978-1800620476
Dewey Decimal: 636.085
ECHO Library: 636.085 HAL