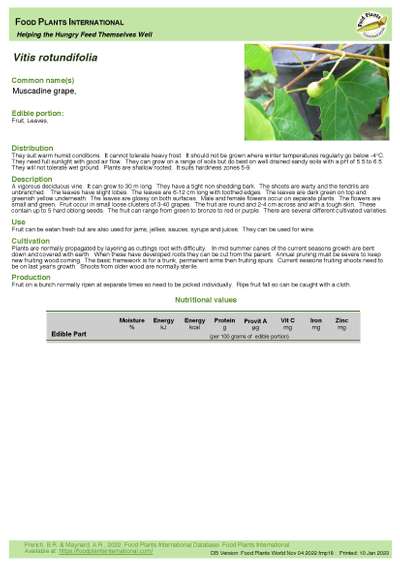 Edible portion: Fruit, Leaves
A vigorous deciduous vine. It can grow to 30 m long. They have a tight non shedding bark. The shoots are warty and the tendrils are unbranched. The leaves have slight lobes. The leaves are 6-12 cm long with toothed edges. The leaves are dark green on top and greenish yellow underneath. The leaves are glossy on both surfaces. Male and female flowers occur on separate plants. The flowers are small and green. Fruit occur in small loose clusters of 3-40 grapes. The fruit are round and 2-4 cm across and with a tough skin. These contain up to 5 hard oblong seeds. The fruit can range from green to bronze to red or purple. There are several different cultivated varieties.
They suit warm humid conditions. It cannot tolerate heavy frost. It should not be grown where winter temperatures regularly go below -4°C. They need full sunlight with good air flow. They can grow on a range of soils but do best on well drained sandy soils with a pH of 5.5 to 6.5. They will not tolerate wet ground. Plants are shallow rooted. It suits hardiness zones 5-9.