Herbs, greens, and aromatics a guide for the gardening cook
by Millie Owen; illustrations by Karl Stuecklen.
---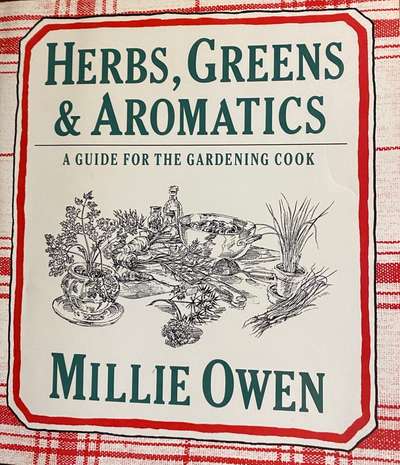 An indispensable guide to cooking with herbs and other flavor-enhancing plants; includes line drawings. Millie Owen was a New Yorker transplanted to rural Vermont. She arrived in the country knowing little about growing things but dug into the subject with enthusiastic dedication, teaching herself all about gardening and edible plants through reading and by trial and error. Her ultimate goal was to enjoy cultivating and harvesting from the wild the widest possible assortment of edible botanicals, including greens, herbs, and aromatics such as garlic, onions, and horseradish.
A Cook's Guide to Growing Herbs, Greens & Aromatics, written in 1997, is now part of The Cooks Classic Library, that growing collection of eternal culinary works from Lyons Press. In this book, Owen shares her enthusiasm and dispenses advice with warmth and intelligence. She reminds you that convenience should be your first thought when planning a garden. Eager for you to have home-grown edible plants at hand, she tells how even apartment dwellers can raise herbs. Typical of her quirky practicality, she suggests using grow-lights in a closet or under the bathroom sink, so you can devote the space on sunny window sills for more visually attractive flora.
Publication Details
Published: 1997
Publisher: Lyons & Burford,
ISBN-10: 1558211101
Dewey Decimal: 641.3
ECHO Library: 641.3 OWE