Latest news about the ECHOcommunity Mobile App
---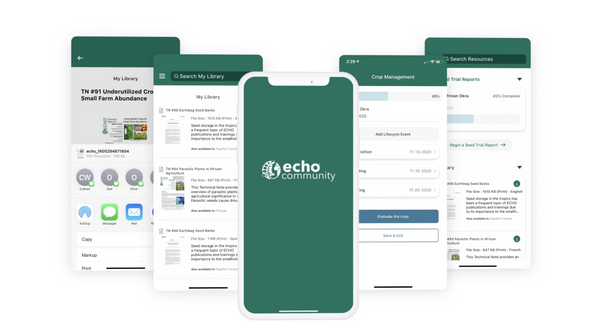 The ECHOcommunity Mobile App (http://edn.link/ema) is freely shared in both the Apple and Android app stores to allow ECHOcommunity users worldwide to access downloadable resources in many languages. Earlier this year, the app navigation was updated to include English, French, Swahili, Thai, Central Khmer, Indonesian, Vietnamese, Chinese, and Haitian Kreyol.
The app was recently updated to accommodate new changes to the Android and iOS (Apple) systems. Changes to the Plant Records feature of the app improve the user experience when multiple Lifecycle Events of the same type are entered for a plant. Additional new features are being worked on and will be shared as available.
New users are finding their way to the app every day. Whenever new downloadable content is added to ECHOcommunity.org, that content is immediately available on the app. Thousands of videos, books, plant fact sheets, and research reports are freely available for download and sharing. Each user chooses what to download so that their local collection is customized to their needs.