ECHO Asia update - water filtration learned at the last TAD course!
---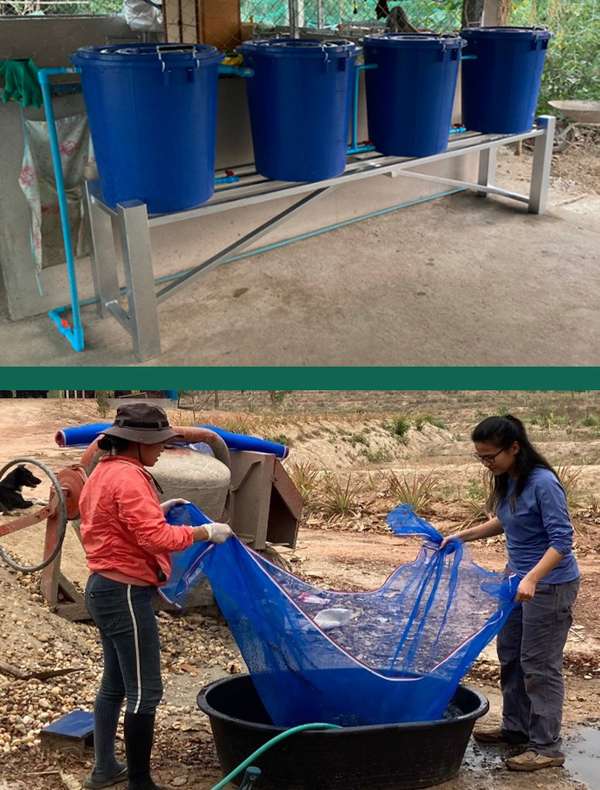 By Drew Lemos, ECHO Asia TAD participant
Living Water Organic Farm, Ban Nakhai Laos
We first learned about the four-barrel water filter design while searching for low-cost filters on Youtube that we could build on our farm. So, of course, we were very excited to hear that we would make one at the ECHO Asia Training Center Farm in Chiang Mai months later. We realize we need it on our farm. We got the training, built one, and it worked! Our system was a small one, with only a seventy-liter capacity. It cleaned up the water significantly to where it was usable again.
A 4-barrel water system with 70 liters of capacity was used. These were typical trash cans bought brand new from the home improvement store. Economical and easy to work with because we did not have to clean any residual soap or liquid out of it. River rock of all sizes, sand, and biochar were used as the filtering medium. We also used a simple in-line shut-off valve instead of the ball valve. We followed the ECHO Asia training to clean the different filter materials. We utilized the blue mesh we had on the farm and a plastic tub to clean any loose soil and dust from the other materials. The stand that I constructed was 50 cm tall and made from metal. I would make it with a heavier-duty metal that could handle more barrels for increased capacity.
Learn about ECHO Asia's Next Course Learn about ECHO Florida's Next Course!