Service Spotlight: ECHO Asia Seed Bank
---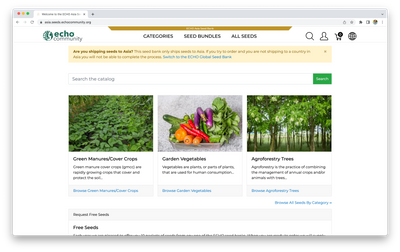 The ECHO Asia Seed Bank works to serve as a resource for development workers within Asia who wish to experiment with underutilized crops as they work to improve the lives of the poor. The seed bank maintains a collection of hard-to-find seeds that thrive under difficult growing conditions in the tropics and sub-tropics.
ECHO currently operates three seed banks worldwide and partners with many more. The seeds selected by the ECHO team in Thailand have been determined to be well-adapted for use in Asian countries. Seeds from the ECHO Asia seed bank will only be shipped to addresses in Asia. ECHOcommunity members who need seeds shipped elsewhere can use the ECHO Global seed bank.
Qualified development workers are offered ten free packets of seed from any of the ECHO seed banks each year.
To request seeds:
Request the free seed code each year.
Order your seeds online using the provided code.
Seeds are shipped free of charge. Please note that not all applicants are automatically approved for free seeds. However, each seed bank is happy to review your request even if you aren't automatically given access to the seed bank.