Agricultural mechanization : a key input for sub-Saharan African smallholders
Sims, Brian ; Martin Hilmi ; Josef Kienzle
---
This book may no longer be available in print.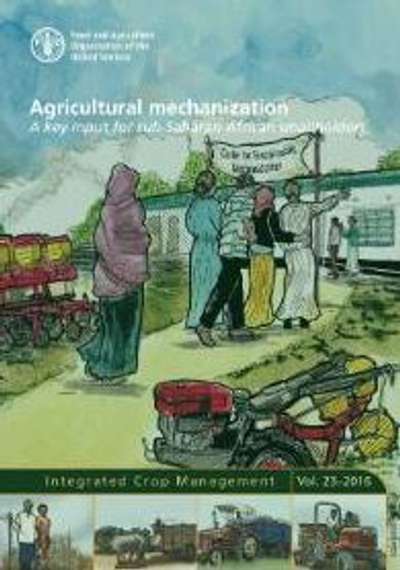 44 pp. : charts
Integrated Crop Management Vol 23-2016
Also Available in French https://www.fao.org/documents/card/en/c/cd9a50a3-c244-4217-81ff-bb7f03ff6557
Gift of Dr Abram Bicksler Jan 25, 2023
This paper is specifically about agricultural mechanisation: the opportunities provided by mechanisation for intensifying production in a sustainable manner, in value addition and agri-food value chain development, as well as the inherent opportunities implied for improved local economies and livelihoods. The establishment of viable business enterprises agro-processors, transport services, and so forth as a result of increased agricultural mechanisation in rural areas, is crucial to creating emp loyment and income opportunities and, thereby, enhancing the demand for farm produce. Mechanisation plays a key role in enabling the growth of commercial agri-food systems and the efficiency of post-harvest handling, processing and marketing operations, and as such can be a major determinant in the availability and accessibility of food, the food prices paid by urban and rural poor, as well as contributing to increased household food security.
Publication Details
Published: 2016
Publisher: Rome : FAO (Food and Agriculture Organization of the United States)
ISBN-13: 978-92-5-109381-8
Dewey Decimal: 631.3
ECHO Library: 631.3 FAO