Appropriate Technology [ Quarterly Magazine Issues Vol. 3 No. 2 (Aug 1976) - Vol. 8 No. 4 (Mar 1982) ]
Ley, Colin (editor)
---
This book may no longer be available in print.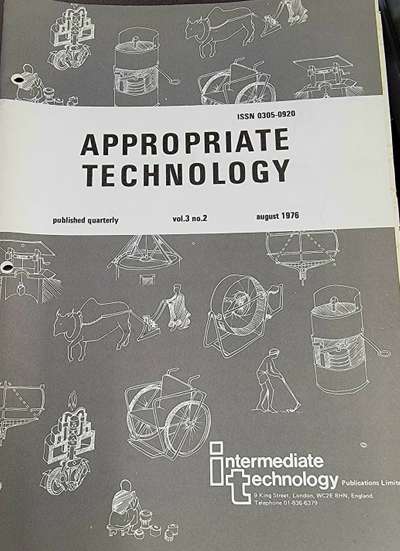 [ Gift of Larry Bentley ]
ECHO Library holds current issues of Appropriate Technology [Quarterly] shelved with other periodicals; these are older copies of Vol. 3 No 2 (Aug 1976 - Vol. 8 No 4 (Mar 1982), not available online at https://appropriate-technology.com/view-digital-at/
"The quarterly magazine for practical changes in the developing world."
The content of Appropriate Technology is directed towards communicating new practical technologies, policies and ideas addressed to the elimination of poverty and hunger.
Wherever you are in the world, you will find plenty to interest you in Appropriate Technology. By concentrating on real-life experiences and problems, this publication deals with practical development in a clear, straightforward way. Lessons learnt in one part of the world may be also applied in another part of the globe…
Appropriate Technology has been introducing new and innovative business ideas and technology advances to communities across the developing world since its publication.
Focusing, first and foremost, on the skills, engineering input and project assistance that smallholder farmers and their families need for survival and progress, we also seek to address the ever-changing concerns and issues faced by the communities we serve. This means reporting on everything from building projects to new equipment, pests and diseases to water shortages, and deforestation to climate change; always with an eye on how a new product, process or research programme may help change the future for people around the world.
Our four issues a year are designed to inform, assist and encourage the developing world's business funders and advisers, aid sector workers and community support staff. The aim is to help them achieve 'quality of life' improvements for those they work with, and to do so, time and time again. Over 10,000 fieldworkers, researchers, extension officers, project managers, and non-government officers read it worldwide.
https://appropriate-technology.com/about-appropriate-technology/
Publication Details
Published: 1976
Publisher: London : Intermediate Technology Publ. Ltd.
Dewey Decimal: 631
ECHO Library: 631 LEY