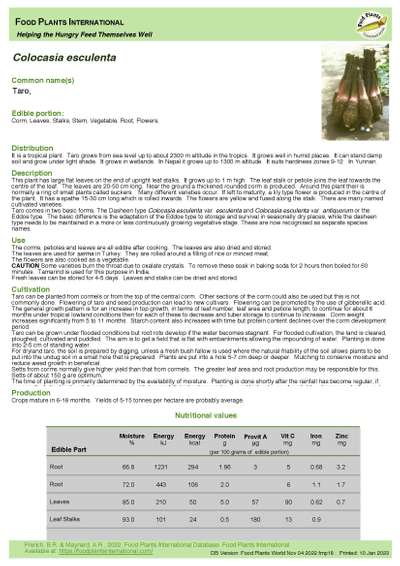 Edible Portion: Corm, Leaves, Stalks, Vegetable, Root, Flowers
This plant has large flat leaves on the end of upright leaf stalks. It grows up to 1 m high. The leaf stalk or petiole joins the leaf towards the centre of the leaf. The leaves are 20-50 cm long. Near the ground a thickened rounded corm is produced. Around this plant their is normally a ring of small plants called suckers. Many different varieties occur. If left to maturity, a lily type flower is produced in the centre of the plant. It has a spathe 15-30 cm long which is rolled inwards. The flowers are yellow and fused along the stalk. There are many named cultivated varieties.
Taro comes in two basic forms. The Dasheen type Colocasia esculenta var. esculenta and Colocasia esculenta var. antiquorum or the Eddoe type. The basic difference is the adaptation of the Eddoe type to storage and survival in seasonally dry places, while the dasheen type needs to be maintained in a more or less continuously growing vegetative stage. These are now recognised as separate species names.