Restore Sol La - Dezyèm Edisyon
Roland Bunch
---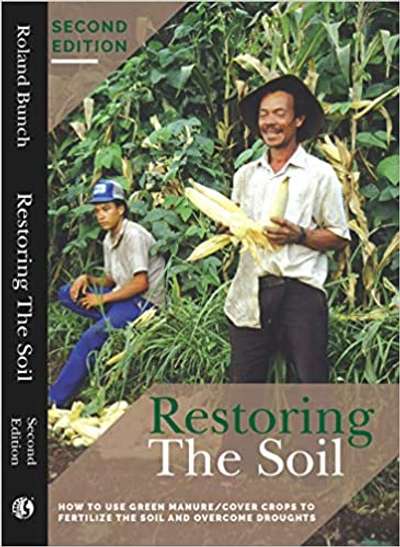 Kounye a disponib atravè Amazon ak ECHO Bookstore
Ti kiltivatè atravè mond lan fè fas ak kèk nan kondisyon k ap grandi ki pi di nan mond lan, men yo pwodui majorite manje nan mond lan. Tè nan zòn sa yo souvan manke nitritif ak kapasite pou kenbe dlo, akòz ewozyon oswa estrikti tè pòv. Obstak sa yo kapab estrawòdinè pou kiltivatè yo ki depann sou tè pou kenbe rekòt yo pou pwodiksyon lakay yo ak/oswa sou mache.
Bunch te deklare sa ki annapre yo sou opsyon sante tè pou ti fèmye yo:
Kounye a ke lachay te mouri atravè mond lan akòz presyon popilasyon an sou tè a, sèl fason fezab ti fèmye yo ka sove tè yo kont degradasyon evantyèlman se lè yo sèvi ak fimye vèt/kouvèti rekòt [gm/ccs]. Konpoze tè a ase pou kenbe fètilite sou yon sèl ekta tè ta mande plizyè mwa travay, epi ti kiltivatè yo pa gen ase fimye bèt pou fè travay la. Angrè sentetik souvan koute pi plis pase valè pwodiksyon an ogmante yo pwodui lè yo itilize sou tè degrade oswa nan klima sechrès, epi yo pa ka bay benefis pi lwen pase bay eleman nitritif plant yo.
Roland Bunch te travay nan devlopman agrikòl pou plis pase 42 ane nan plis pase 50 nasyon nan Amerik Latin nan, Lafrik ak Azi. Li te fè konsiltasyon ak Ford Foundation, Cornell University, CARE ak pi gwo òganizasyon non-gouvènmantal ki soti Kanada, Grann Bretay, Netherlands, Almay ak Swis, ansanm ak gouvènman Gwatemala, Ondiras, Swaziland ak Vyetnam. An 1982, li te pibliye liv ki pi byen vann Two Ears of Corn, A guide to People-Centered Agricultural Improvement.
Kòmanse an 1983, Bunch te kòmanse mennen ankèt sou itilizasyon plant ki patikilyèman bon nan fekonde tè a, ki kounye a yo rele gm/ccs. Ansanm ak yon gwoup endepandan agwonòm nan sid Brezil, li te dirije efò ki te reyisi mete teknoloji sa a sou ajanda òganizasyon devlopman atravè mond lan. Bunch te kolabore tou ak ECHO depi 1983.
Bunch te nominasyon pou Prim Global 500, Pri Fini Grangou Prezidan Etazini, ak Pri Mondyal Manje.
Dezyèm edisyon Restoring the Soil Roland Bunch a eksplike kijan gm/ccs ka double oswa triple pwodiksyon grenn debaz ti kiltivatè yo, ranje plis nitwojèn pase nenpòt ki kiltivatè ap bezwen, bay jiska 80% pwoteksyon kont sechrès, bay manje ki gen anpil pwoteyin pou yo. fanmi fèm, pwodui fouraj sezon sèk pou bèt yo, pwodui tòn bwa pou dife, epi sezi plis kabòn nan atmosferik ak mwens pri pase nenpòt lòt pwosesis nou konnen.
S4. Dispèse lonbraj/gliricidia. Pwouve. Ondiras ak El Salvador. Dè dizèn de milye. Sistèm lonbraj dispèse orijinal ki baze sou gliricidia, ki rele "quesungual," te devlope pa ti kiltivatè nan sid Ondiras ak lès El Salvador, kote gliricidia se natif natal. Pandan ane yo, yo te pèmèt pye bwa gliricidia ki te sèvi kòm volontè epi ki te byen espas pou grandi nan jaden yo. Nan fason sa a, evantyèlman yo te gen jaden ak pye bwa gliricidia espace nan yon mwayèn de apeprè 8 m distans. Kòm yon rezilta, fètilite tè a diminye pi dousman sou tan.
Figi 13. Yon egzanp yon bwat deskripsyon sistèm ak imaj li akonpaye. Sous: Restoring the Soil, Dezyèm Edisyon
Pati 1 nan liv la dekri benefis ak limit nan gm/ccs, move konsepsyon komen, ak erè komen yo te fè nan itilize yo. Li diskite sou fason gm/ccs gen rapò ak amelyorasyon tè, agrikilti twopikal, ak pratik klima-entelijan. Pati 2 mennen lektè a atravè yon pwosesis inik pou pran desizyon pou chwazi kiyès nan sistèm 117 gm/cc ki gen plis potansyèl pou siksè nan anviwònman yo. Figi 12 montre yon pòsyon nan yon pye bwa desizyon; chak nimewo akonpaye pa kòmantè nan liv la. Figi 13 montre yon egzanp yon sistèm.
Pou kòmande pwòp kopi ou a Restoring the Soil, Dezyèm Edisyon, tanpri vizite sit entènèt ECHO libreri oswa Amazon.com. Pou kesyon sou kòmande, tanpri kontakte ECHO nan +1 (239) 543-3246.
Sa a se yon gwo opòtinite pou aprann nan men yon ekspè ki renome nan lemonn ki jan yo ogmante sante ak rezistans nan tè atravè mond lan!
Mwen te li liv Roland la plizyè fwa e mwen kwè ke se youn pi bon resous mwen te janm wè pou fèmye yo nan nenpòt echèl, soti nan ti pwopriyetè yo pou rebati tè, fètilite ak pwodiktivite a yon pri minim. Nou vrèman bezwen ankouraje li. Kòm yon kiltivatè mwen ka deklare ak anpil konfyans ke sistèm sa yo travay jan mwen te itilize sa yo kalite fimye vèt pou dè dekad epi toujou fè.

- Andre Leu
Publication Details
Published: 2019
Publisher: ECHO, Inc.
ISBN-13: 9781946263308
Dewey Decimal: 631.874
ECHO Library: 631.874 BUN