Conservation and sustainable use under the international treaty
FAO (Food and Agriculture Organization of the United Nations)
---
This book may no longer be available in print.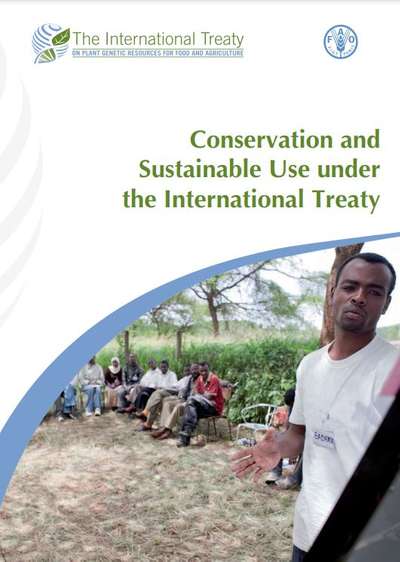 154 pp. : ill.
This is the second module in a series of traning materials fo rthe implementation of the International Treay on Plant Genetic Resouces for Food and Agriculture.
see also https://www.fao.org/3/i2631e/i2631e.pdf
[ Gift of Dr Abram Bicksler Jan 24, 2023 ]
"Conservation and Sustainable Use under the International Treaty" is the second in a series of educational modules being developed under the coordination of the Secretariat of the International Treaty to strengthen capacities for the effective implementation of the International Treaty among its stakeholder groups. The work on these training materials was officially welcomed by the Governin g Body of the International Treaty at its fourth session. The educational modules are aimed at all stakeholder groups of the International Treaty, including policy makers and their staff, civil servants, gene bank staff, plant breeders, farmers' organizations and other civil society organizations. They are also designed as information and awareness raising materials for the use of media, academia, prospective donors and other interested institutions.
The International Treaty on Plant Genetic Resources for Food and Agriculture promotes and facilitates the conservation and sustainable use of plant genetic resources for food and agriculture (PGRFA) and the fair and equitable sharing of the benefits arising out of their use for sustainable agriculture and food security, in harmony with the Convention on Biological Diversity.
It is an FAO legally binding international agreement that deals with the management of PGRFA and its Governing Body provides policy guidance to achieve its full implementation through an effective and functioning framework. As of February 2020, the Treaty has 146 Contracting Parties.
Conservation and sustainable use of PGRFA are essential to achieving sustainable agriculture and food security, for present and future generations, indispensable for crop genetic improvement to adapting to unpredictable environmental changes and human needs. Because countries are interdependent in their reliance on PGRFA and the management of PGRFA is at the meeting point between agriculture, the environment and commerce, the International Treaty has established a multilateral system that facilitates continuous exchange of PGRFA (Multilateral System of Access and Benefit-sharing).
Publication Details
Published: 2012
Publisher: Rome : FAO (Food and Agriculture Organization of the United Nations)
ISBN-13: 978-92-5-107134-2
Dewey Decimal: 576.52
ECHO Library: 576.52 FAO