Agroforestry in rice-production landscapes in Southeast Asia : a practical manual
Wangpakapattanawong, Prasit ; Finlayson ; Oborn, Ingrid ; et al.
---
This book may no longer be available in print.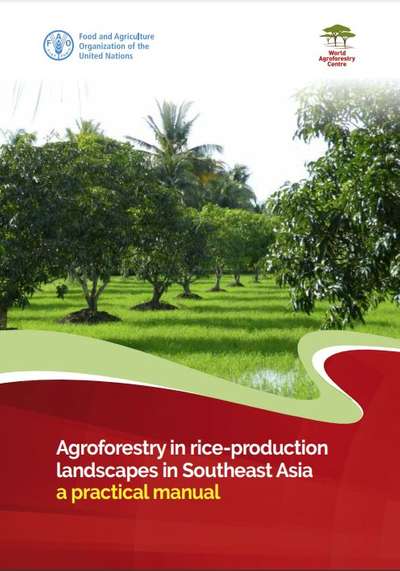 92 pp : ill.
[ Gift of Dr Abram Bicksler Jan 24, 2023 ]
This publication represents an output of work conducted on trees outside forests (TOF) as part of Regional Rice Initiative (RRI) Phase 2. It provides practical information on the status, benefits and techniques related the use of TOF in rice production landscapes in Southeast Asia. The manual describes the main rice-based farming systems in Southeast Asia, discusses the potential of agroforestry in enhancing the livelihood of smallholder farmers in rice growing areas in Southeast Asia, and gives an overview of traditional and innovative practices integrating trees in rice-based farms and landscapes. The manual also provides practical information to guide the planning, design and management of agroforestry in rice production systems in Southeast Asia, including case studies from several countries in the region.
This manual has been created for rural advisors and agricultural extension workers to help them guide farmers in the integration of trees into farms in rice-production landscapes, whether rainfed, irrigated, upland or lowland. There is a growing interest from regional and local governments and others in agribusiness development and environmental management to implement agroforestry practices as a means to strengthen farmers' resilience to climate change, as well as to fluctuations in market prices and crop yields. Trees provide benefits throughout the year and over many decades that help to spread both economic and environmental risks. We know that by integrating trees, farmers' food and nutrition security and incomes increase and this helps nations in the region achieve their agreed contributions and commitments to the ASEAN Vision and Plan for Food, Agriculture and Forestry 2016–20251. The manual sets out the steps to follow to ensure success. While it covers many of the aspects of designing, planning and maintaining productive and resilient rice and agroforestry systems, it is still quite general because people have modified their practices over time using their own unique knowledge and skills in response to the particular conditions of the landscape. The wider social and political environment is likewise unique to each country and changes over time in response to internal and external influences. Accordingly, advisors will likely need to seek more detailed, specialist knowledge-from international, national and local agricultural, agroforestry and forestry experts and leading farmers-to apply it to the particular landscapes in which they work.
Publication Details
Published: 2017
Publisher: Bangkok : Food and Agriculture Organization (FAO) of the United Nations Regional Office for Asia and the Pacific World Agriforestry Centre (IRAF)
ISBN-13: 978092-5-109737-3
Dewey Decimal: 634.9
ECHO Library: 634.9 FAO